Want £105 worth of beauty for £10? You NEED to get yourself over to Marks & Spencers between the 22nd and 26th of June. All you have to do is spend £40 across Clothing, Homeware & Beauty, and you get this amaaaazing box of goodies for less than 10% of the total price – winner! I was lucky enough to get to try out a few of the products that are inside the Summer Beauty Box, and I definitely need to get myself down to M&S so I can get my hands on the rest of it! It's full of great quality products, curated to get you ready for Summer, with this crazy hot weather, it's definitely come at the right time! Here's a sneak peak at the products inside: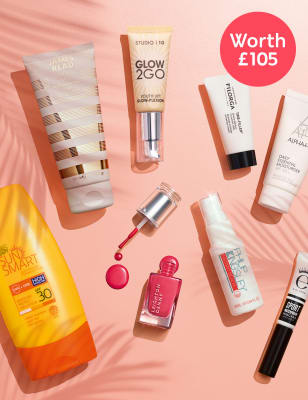 Image from Marks & Spencers.
Eyeko Waterproof Mascara – 4ml
Studio 10 Youth Lift Glowplexion – 15ml
Leighton Deny Nail Colour – 12ml
Alpha H Daily Essential Moisturiser SPF 50 – 12ml
James Reed Sleep Mask Body – 100ml
SunSmart SPF 30 Sun Lotion – 200ml
Philip Kingsley New Instant Beach Haircare – 25ml
Filorga Time Filler – 15ml
---
So let's get onto the products I got to test out..
The Philip Kingsley Instant Beach salt spray – now I don't know about you, but I cannot stand the thought of having to blowdry my hair in this heatwave, salt/beach spray is literally my ideal product right now. I have naturally wavy hair, so it helps to add some more texture and hold it all in place throughout the day. There's such a buzz about Philip Kingsley products at the moment, the quality is great, and it actually does what it says it will – what more could you want?
The James Reed Sleep Mask – I'm currently wearing the face version and there is literally not one whiff of that fake tan smell. It went on like a dream and feels so comfortable on my skin. If you spend over £25 on James Reed at the moment at M&S, you also get yourself a free gift. Not only do you get the Body version of the Sleep Mask, but you get a Gradual Tan Mist, the Tan Accelerator and the cuuutest little travel bag for it all to go in.
I'm totally ready for Summer now.
I get commission for purchases or clicks made through links in this post.