This one has definitely felt like it's taken the longest… It involved more work than we initially expected – a lot of prep and a lot of painting! There was 5 layers of wallpaper on every wall in this room, which took an absolute age to get off, even with help. We then had to re-plaster all of the walls, build another cupboard unit to the right of the chimney breast, find new flooring, paint (I had it between 12 different colours) and then furnish it! With all that said, I'm so so pleased with the end result, and hope you like it too!
I can't find any of my own 'before' photos, so you'll have to put up with these grainy estate agents shots..
BEFORE: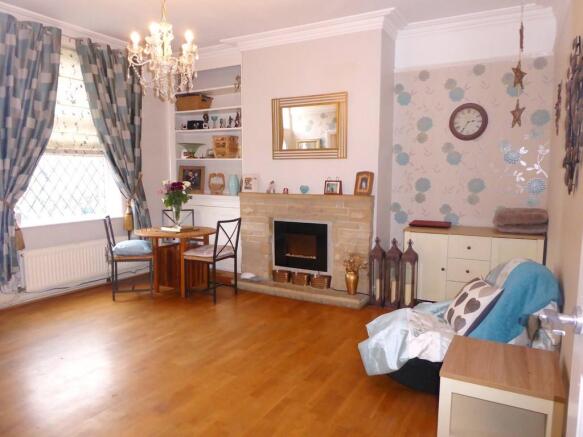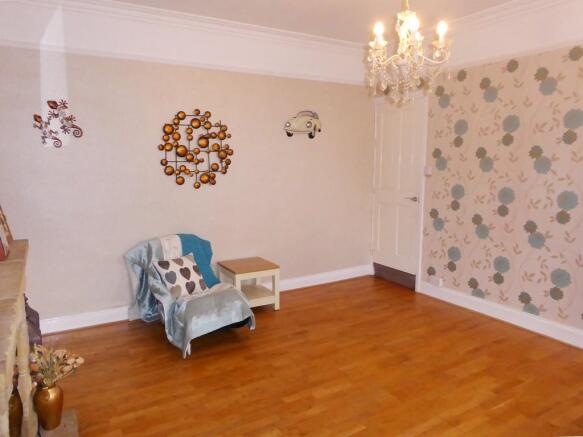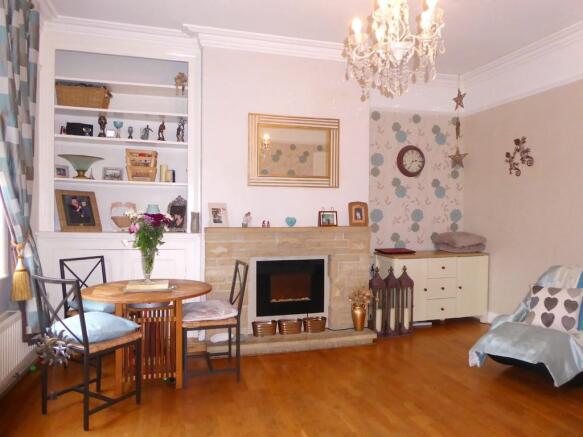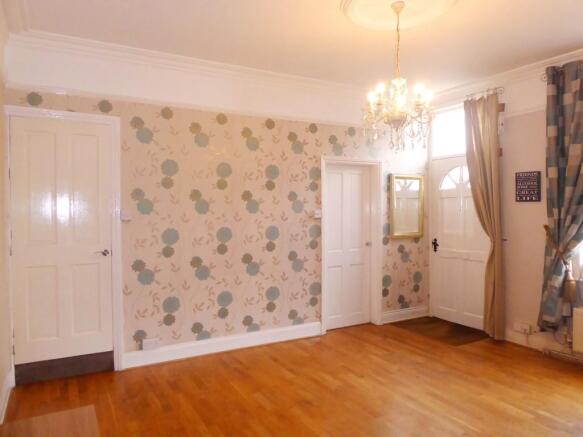 AFTER:
The fire surround was one my Dad was able to get free from a job he was working on and the cast iron fireplace cost a measly £24 on ebay – what a bargain! It would be a working fireplace if I got the flue made larger, but I don't think I'd actually use it and chimney work is normally pretty pricey, so we decided to just have it purely aesthetic.
The wall paint colour is a colour match of Mizzle by Farrow & Ball from a local paint shop, much cheaper, and if I'm honest, better coverage! As I said before, I had my choice narrowed down to 12 colours…. all of the same grey/green look, but none we're quite right, I wasn't even sure on Mizzle until it actually went on the walls. I'm now a little bit in love with the colour, even if it is impossible to photograph!
I also painted the existing built in cupboard/shelf and the new built in cupboard in the same colour as the walls, which completely changed the feel of the room, making it feel a lot more luxurious and 'special'. Above the picture rail, the ceiling, the doors and the skirting boards are all 'Brilliant White' from various paint brands.
The newest additions to the room are the large round mirror from JYSK – an absolute nightmare to get hold of as they kept selling out and you can only buy them in store, and the pendant light shade from Dunelm. I was really struggling to find a light that A. went with the style of the room and B. wouldn't look stupid hanging from such a high ceiling – I think this is a great option, it was on sale for £31.50, a lot cheaper than other ones I was looking at, and the black and brass details go perfectly with the other details in the room.
We… my Dad… built a cupboard in the empty alcove so that I had some extra storage space and somewhere for my TV to sit. I designed it on the back of a piece of wallpaper… professional, I know, so that there was an internal shelf that I could pop my sky+ box and any other TV related equipment on so that the TV itself could sit in the middle of the cupboard – I'm really pleased with how this turned out – well done, Dad! The door knobs were a boxing day sale treat to myself from Zara Home. Mine have sold out online (I know that they definitely have them in the Leeds store though!) so I've linked their amazing range of door furniture.
You might recognise this little section from a previous blog post – the table and lamp were gifted as part of a campaign with Habitat and I'm honestly still so in love with them.
My flooring is from Direct Wood Flooring and it's the Peterson Oak – I love how the darker wood looks against the green/grey walls and bright white skirting. I've never had darker wood before, yes it does show up more of the bits, but it just means that I have to force myself to vacuum more!
After a lot of searching, I decided to go for the Stenlille rug from IKEA – it's only £60, is the perfect size (170cm  x 240cm) and goes so well with the rest of the room. I had planned on getting THE rug from La Redoute, but after realising how easily carpet and rugs mark (especially with cat sick) I thought a darker, lower pile option was the best fit for me.
Now, this part of the room isn't quite finished yet, I still need to get some cushions made for my vintage Ercol chair, but I draped the fabric over a few throw cushions so you could get an idea of how it will eventually look – hope it works…
The side table was a very generous gift from the lovely people at Barker & Stonehouse when I told them I was renovating and decorating my living room. It's called the 'Lalit' and has a stunning green marble top with a beautiful brass base. It's unlike anything I've come across on my search for the perfect side table and I'm so grateful to Barker & Stonehouse for fulfilling my side table dreams. It's the perfect height next to the armchair and really finishes the room off, exactly what I was hoping for!
The left side of the chimney breast already had built in shelves and a cupboard (which is full of shoes incase you were curious!), which gave us the idea to recreate something similar on the other side. I've basically just thrown every little trinket, vase and candle I have on these shelves, but I'm pretty happy with how it turned out – it might still need a few tweaks, but it'll do… for now!
The sofa is the same one I had in my old house, which was from Sofology, but I don't think they make it any more. The colour of the sofa dictated what colour I wanted on the walls, it is grey, but it has a green tinge to it, so I think Mizzle was the perfect paint to pair it with. The decorative cushions are from H&M home as always, but I don't think they have either online at the moment. They're really great quality, I have so many spares in the cupboard under the TV….
And here's the view from the front door – I'm not lucky enough to have a hallway, so you step straight into the living room when you walk into the house. I'm not too mad, cause I think it's a pretty nice view!
So that's it – my living room makeover – hope you love it as much as I do!
This post contains affiliate links – this means that I make a small commission if you choose to buy products that I have recommended. All items that were gifted are clearly marked.