If you've even so much as thought about updating your kitchen, you'll have noticed the same kitchen styles pop up over and over on instagram or pinterest. Most homeowners opt for 'classic' designs when updating their kitchens instead of following current trends, but those 'classic' designs have changed over the last few years (hence the 'new classics' part of the title). It's a huge expense, even if you're just updating the cupboard fronts or changing out the worktop, so it's a lot 'safer' to go for a style that you think will stand the test of time rather than a style that you might fall out of love with if the trends change.
Having recently renovated my own kitchen, I've done a lot of research on different kitchen styles and colourways and have found the same 5 'new classics' in almost every kitchen- obviously there are slight variations within each one, but as a general rule, these 5 are by far the most common. It's worth saying that shaker style are probably the number 1 door style at the moment, but these 'new classics' spread across all door styles too.
---
Dark Shaker style doors with a light natural stone worktop
Probably the most popular 'new classic' at the moment. Dark blue (think Farrow & Ball 'Hague Blue' or deVOL 'Pantry Blue' in the second image) has been pretty much everywhere over the last few years, it's bold, but has a softness to it that makes it a bit more 'mainstream' than Black. Marble, or veined Granite is also a huge trend, and while it's always been a classic, there are now great, more affordable options available – like the laminate in my own kitchen! Brass, gold and copper door furniture also provides a great contrast to darker cabinetry, and allows for other feature metals throughout the kitchen.
image sourced from deVOL
image sourced from deVOL
---
Colour blocking – Dark units with a dark worktop or light units with a light worktop
A trend you'll see in my own kitchen, light cabinetry with a light, marble effect worktop and white tiles – it's fresh, 'clean' and creates a blank canvas for statement accessories. The same goes for it's dark counterpart, it allows the details of the kitchen to speak for itself, while looking seamless and classy. It creates a really sleek and cohesive look and while it can be considered a 'safe' option, it can also make a huge statement.
image sourced from  Our Food Stories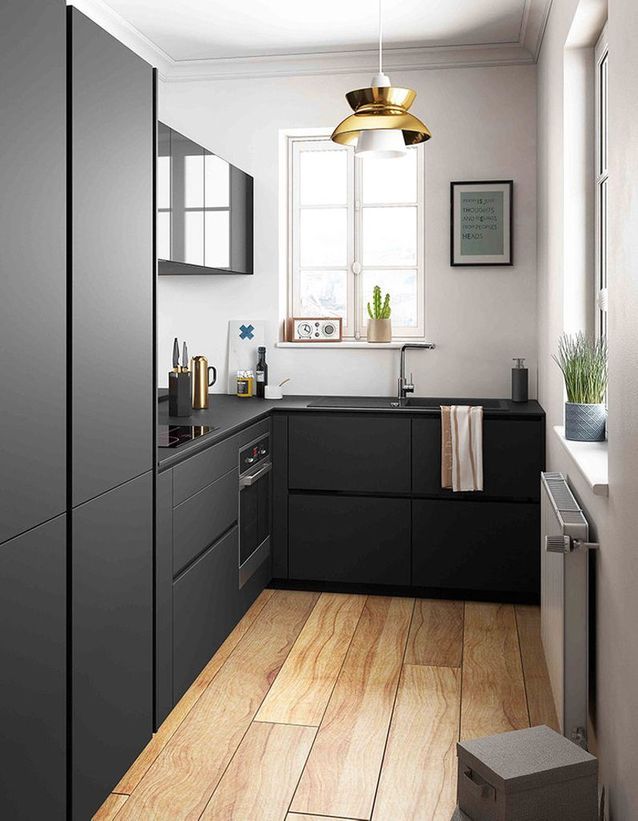 image sourced from elle.fr
---
Open shelving instead of wall units
This is a feature I'd have liked to have adopted in my own kitchen renovation if I didn't need the extra cabinet space. It gives a focal point to beautiful crockery and glassware as well as opening the space up – wall units can create a block to the eye, reducing the perceived size of the room and can even sometimes be a bit overbearing. Obviously the downside is dust, and the requirement to have the shelves styled perfectly at all times, but if it's something you're going to commit to, they can be stunning.
image sourced from deVOL
image sourced from bigger than the three of us
---
Large 'larder' style cupboards
The most useful and practical element of the 'new classics' – without a doubt. If there's no room for a separate larder, a larder cupboard is the best solution. They're generally only available in custom built kitchens (like below) but there are great pull out functions in highstreet kitchens that give a similar effect and help to better utilise dead space in a cupboard. If you are opting for a custom kitchen, your kitchen designer will be able to help create your perfect larder space, with as many drawers and shelves as you require, which could also mean you might not even need wall units.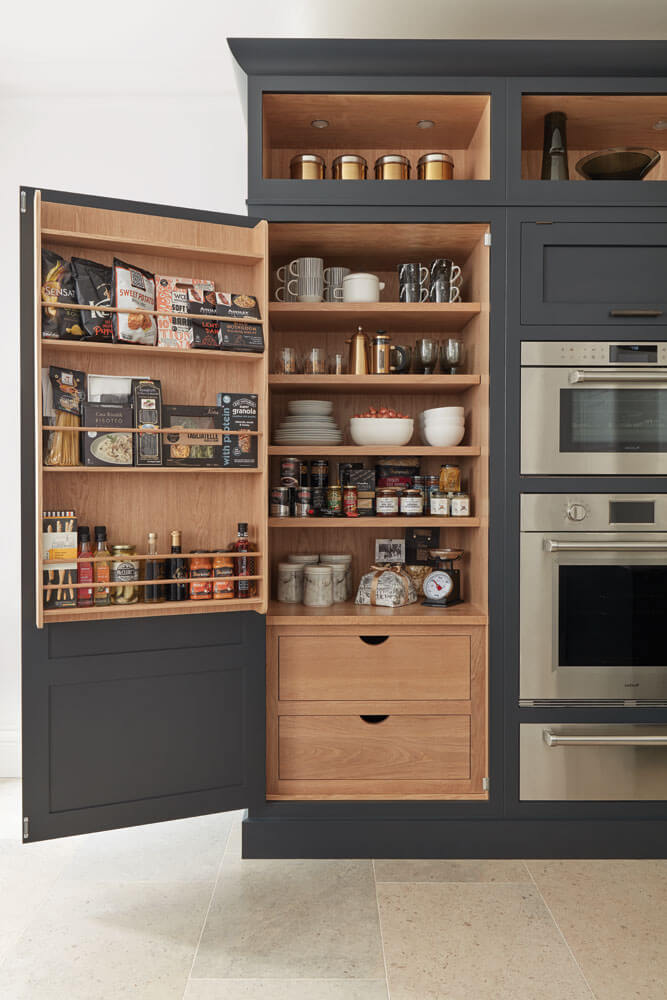 image sourced from tom howley
image sourced from deVOL
---
Cutout or 'handless' doors
This style of door works really well with the current ply or light wood trend (second image), it modernises an original classic and brings it through to the 21st century. It also looks great in super sleek and modern kitchens – with the 'handles' built in at the top of the doors (first image), my parents actually have this style of kitchen and it looks great.
image sourced from stiff + trevillion
image sourced from remodelista