Yep, 5 days.. I wanted it to sell quickly, but 5 days blew my mind a little bit. If you've been following my house selling/ buying journey (posts here and here) you'll know I've been saving up to move house and had started the search for my next home. I'd had my eye on a house in the area I want to live in, so after a few weeks of mega-saving, I booked a viewing – I didn't want to fall in love with anywhere if I wasn't financially ready to move. It was pretty much exactly what I wanted, a second bedroom, a separate kitchen and living room and just generally more space (it needs a lot of work doing to it to make it my style, but that's what my current house needed so I knew it was all do-able).
I decided to take the plunge and put mine up for sale, had all the photos taken and it went up for sale just over a week after on the Monday. By lunchtime on Monday there were already 4 viewings for the week, and 3 more came over the next few days. My buyer came to view on the Tuesday and then came again on the Saturday and made an offer a few hours later. After a teeny bit of haggling, I accepted the offer – I know I make it sound easy, and I know a lot of house sales don't go that smoothly, but mine did, so I thought I'd share it! There were 2 more offers that came in after I'd accepted the first, but they weren't for any more money, and morally, I couldn't ditch my buyers and go with something else.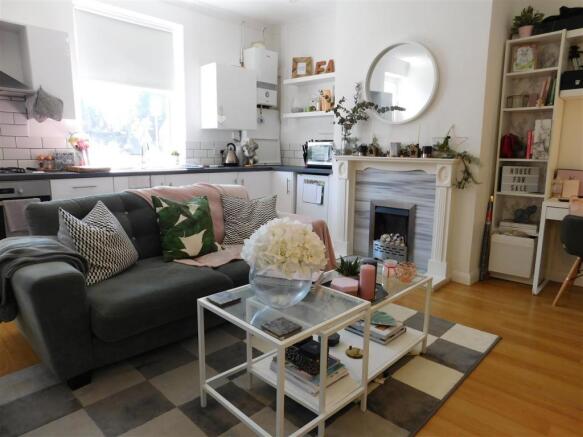 I got a second viewing on the house I loved the next day and put in an offer pretty much straight away. It got accepted within a hour, which was a pretty amazing feeling. The next day was very different story though… I got a call from the estate agents at about 11am, saying someone else had put an offer in and they'd get back to me if I needed to increase my offer…. I then had to wait until 5:15pm to get an answer… possibly one of the post stressful days of my 25 (26 now) years of living. Being in limbo for the whole day was tough, why had she accepted my offer if she wanted more money? Why didn't she have the same morals as me? The way England does house selling leaves a lot to be desired to be fair, but you've got the play the game. The phone call after 5 was to tell me that the other person had offered the full asking price (only an extra £999) and if I wanted it, I'd have to offer the same. I called my parents (who are giving me some early inheritance to fund the renovations etc), who said "It's an extra £1k for a house you love, it's nothing in the grand scheme of things… go for it" – so I did.
I got the memorandum of sale days later and appointed my solicitor… this was 2 weeks ago now and things seem to be running along quite smoothly. My solicitors have been great so far (if anyone needs any recommendations in the Leeds area, I can pass their details on), so fingers crossed everything else goes well!
I'm hoping to be in the new house sometime around June/July, and I can't WAIT to take all the 'before' photographs!
My tips for selling your house fast:
Make it 'instagram friendly' – basically, style it up like you'd see on instagram.
Make sure it smells nice, spray rooms sprays, try to mask any pet or cooking smells with neutral scents.
Play soft music (not too loud) to drown out any noisy neighbour sounds.
Make sure everywhere is clean and tidy – might seem a bit obvious but some of the houses I saw weren't.
Turn all of your lights on – make everywhere look as bright as possible
Open your blinds and curtain – the same as above – it needs to look bright and airy!
Give your front door a wipe down – first impressions count!
Don't be too in their face – answer questions, give any important information, but don't go too 'salesman/saleswoman'.